Hall of Fame
2023 Inductees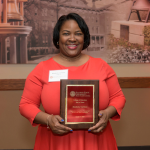 Kim Carthans
Kim Carthans '94, M.S. '99 earned a Bachelor of Science in elementary education and a Master of Science in reading, and is pursuing her doctorate degree in education at Illinois State. For 26 years, Kim has been in the elementary classroom and is currently a third-grade teacher at Thomas Metcalf Laboratory School. Kim created her own story time business and a book blog to honor diverse and inclusive literature. She has worked alongside her local and classroom community in donating materials to schools in Kenya, food pantries, and the Center for Civic Engagement at ISU. She has also helped form local and international pen pal systems with second grade classes locally and in Kenya. In addition to her role as a teacher, Kim is a proud member of the Illinois Reading Council, NAACP, Association of Black Academic Employees at ISU, and the Teach Better Team.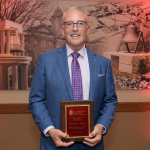 Patrick Holloran
Dr. Patrick Holloran, M.S. '93, Ed.D. '08 earned a Master of Science and Doctor of Education in educational administration from Illinois State. For 38 years, Patrick has been in education as a teacher, leader, mentor, and coach. In 2018, he retired as superintendent of Morris Community High School District. He currently serves as an instructor in the Department of Educational Administration and Foundations and is a leadership coach for principals and superintendents throughout Illinois. In 2018, he was named the Illinois Association of School Administrators Three Rivers Division Superintendent of Distinction. Patrick has always valued a servant leader approach with an emphasis on relationship building and he continues to give back to education through building district leaders who understand the importance of serving those they lead. In his local community, he serves on multiple community organization boards.
Tim Moore
Tim Moore M.S. '01, earned a Master of Science in educational administration from Illinois State. For 26 years, he has served the students and families of Bloomington High School. He began as a business teacher and has been the principal for the last 16 years. Tim serves as a mentor for aspiring principals in his district and across the state through his work in the Illinois Principals Association. He served on the Illinois High School Association (IHSA) board of directors as he understands and appreciates the relationship of interscholastic athletics to the success of schools and students. He has been a guest speaker on the Paul Garcia Show podcast, the Illinois Principals Association Leaders of Hope series, and for teacher education programs at ISU. Tim believes that his sole purpose as an educator is to serve others and help provide opportunities for his students and staff.

Jeremy Schenk
Dr. Jeremy Schenk '00, M.S. '01 earned his Bachelor of Science in social work and Master of Science in college student personnel administration (CSPA) from Illinois State. He earned a doctorate in educational leadership and policy analysis from the University of Missouri. He currently serves as the Associate Vice President of Student Affairs at Northwestern University. He began his career in student affairs at ISU 25 years ago. For nearly his whole career, he has been a part of the Association of College Unions International where he served in many leadership roles including President during the pandemic. Jeremy has completed exceptional research in human resources within student affairs. He also lead a study that looked into recruiting, retaining, and engaging the student affairs workforce. Among all his achievements, Jeremy takes the most pride in his inspiring students. For the last five years, he served on the CSPA advisory board at ISU.
 Past Recipients
2022

joyce gillie gossom
Dan Kaiser
Cynthia L. Thompson

2021

Matt Goodwin
Ross Hodel
Timothy Kilrea
Daniel López
Mary Manz Simon

2019

Sharon Desmoulin-Kherat
Scott Parke
Diane Wolf

2018

Loyal L. Darr
Jennifer Campion Friberg
John J. Hoover

2017

J. Michael Durnil
Ardith Kleindienst
Pamela Rosa

2016

Richard Benson
Mary Camp
Kathy Horvath
Mark Pagel
Joseph Rives
Kimberly Thomas
James R. Thompson

2015

Stewart Adams
Thomas Bertrand
Michael Conver
David Kinney
Amy (Brophy) Laughlin
Donna J. (Prescott) Troka

2014

John Avendano
Thomas M. Eddy
Kathleen Kane
Linda A. Rosendall
Carl J. Wenning, Ed.D.

2013 

Lori Ann (Duncan) Campbell
Greg P. Gardner
Lois J. (Hurston) Gaston
Teresa (Lucie) Thompson
Beverly J. Trezek

2012 

Kari Dunn Buron
Carol Judge Ketzle
Laura McNeal
Jeanne Glidden Prickett
J.R. Webster

2011

Frank Chiodo
Joanne (Peppard) Cooke
Wayne Ruble
Edward Storrs

2010

Cathy Flannery
Patti Hodges
Keith Jepsen
Ngozi Onuora
Deanna Perkins
Linda Tomlinson
Sharon Kay Weiss

2009

Joan Kane
Gerald Lewis
Mary Jane Linton
Kathleen O'Leary
Charles Powers
John Tenney

2008

Wesley Habley
Jill Lanier
Sharon Litchfield
Jessica Rivera
Gayle Saunders
Yvette Webber-Davis

2007

Howard E. Brown
James R. Davis
James Joseph Doglio
Alice Michael Evans
Marilyn Feldmann
Tom Grites
Charles A. Martin
Harry Bernard Shaw

2006

Jon Robert Bales
Lorinda A. Campo
Randy J. Dunn
Victor J. Rich
Ralph L. Smith, Jr.
Rose Sugden

2005

Wayne Antenen
Seth Baker
Patsy Bowles
John Dively
Patricia Gallagher
Cynthia Grennan
Lee Noel
Lorene Ramsey
William Simpson
Sheila Sorrentino
Camille Taylor
Alcyone Vasconcelos
Werawat Wanasiri
Charles Warthen
Michael Winchell

2004

Jonathan Astroth
Bettsey Barhorst
Carolyn Bartlett
Brock Butts
Cheryl Cage
Anthony Chambers
Alan Chapman
Anne Davis
Spencer Gibbins
Bonnie Gladden
Christine Guinther
Albert Hieronymus
Francis Irvin
Eugene Jontry
Clint Kelly
Marian Kneer
Tom Walter

2003

Martha Angulo
Alan Brown
Harold Ford
Irvin Howard
Rita Kohn
Roy Oren Schilling
Louise Stubblefield
R. Craig Whitlock
Maxine Wortham
Anna Marie Yates

 

2002

Beth Buehlmann
Barbara Caldwell
John Dal Santo
Jay Hammer
Kenneth Huddleston
Michael Johnson
Leonard Larson
Denise Mewborn
Dorothy Miko
Douglas Otto
Julie Riley
Brenda Scheuermann
Carol Stack

2001

Edna F. Bazik
Senator Evelyn M. Bowles
Mary Jo Ann (Jo) Crow
Rey E. de la Cruz
Sally Bulkley Pancrazio
Mary Gallagher Polite

2000

Charles Bowen
David Goldenberg
Allyson Harding Smith Lawhorn
Elaine Held Parker
Paula Smith
Margaret Stangeland
Keith Storey
Kim Zinman

1999

Judy Bieze
Cathy Bissoondial
Dave Edyburn
Pearl Mack
Lauren Mittermann

1998

Joan Forney
Richard Manahan
Stanley Rives
Carol Struck
Noelia Vela

1997

Joseph Cipfl
David Franklin
Pamela Inman
Alan Koenig
Jeannine Perez
Vallop Suwandee
John Swalec
Linda Timm
Reg Weaver

1996

Valeria McLeannan Evans
Patricia First
James Forstall
Kathleen Kelly
Lanny Morreau
Sammie Campbell Parrish
David Turner

1995

Catherine Batsche
Craig Bazzani
Robert Bowman
John Dossey
Lynn Gaddis
Gene Hoffman
Mary Ann Louderback
Jerry Moskus
George Pruitt
Patrick Schloss
Walter Warfield
Sermsak Wisalaporn